Last week, David Letterman's "Late Show"
killed
Conan O'Brien's "Tonight Show" in the ratings.
David Letterman posted his biggest score in recent years in the late-night ratings, dominating NBC's "Tonight Show" last week by the biggest margin in more than 15 years.

Mr. Letterman's "Late Show" on CBS... averaged 5.04 million viewers for the first new week of the television season, up almost 30 percent from the same week a year before.

That gave him his biggest win over "Tonight" since the week of Feb. 24, 1994 (when he followed the Winter Olympics on CBS). "Tonight" had 2.4 million viewers last week. (The third network late-night competitor, ABC's "Nightline," had 4.23 million viewers for its half-hour duration — the other two shows are rated for a full hour — which was the best performance by the news show in almost a year.)

That's pretty good, and cause for celebration for Mr. Letterman. And he did his celebrating by giving testimony to a grand jury, over an
extortion
plot.
"This morning, I did something I've never done in my life," Letterman, 62, told his stunned audience.

"I had to go downtown and testify before a grand jury."

The "Late Show" host said he had received a package three weeks ago from an individual who threatened to expose his dalliances unless he coughed up a cool $2 million.

Apparently, Mr. Letterman slept with a female employee or employees.
Letterman was asked at Thursday's Grand Jury hearing if he had ever slept with a member of his staff.

"My response to that is, yes I have," he said.

"Would it be embarrassing if it were made public? Perhaps it would," said Letterman.

Aside: Why can't he just say, "Yes, I have"? Why does he have to add that preface, "My response to that is"? "My response to that is," is part of the response itself.
How do you feel?

My response to that is, I feel fine.

Are you a fan of David Letterman?

My response to that is, yes I am.
Also, you'll note, he seems to ask himself a question, and then answer it. I wonder if when he did that, he was stroking his chin the way he does sometimes when he's doing a bit on the show, in which he pretends to be remembering something.
Anyway, not to sound crass or anything, but the real loser in all this is Conan O'Brien. Letterman's ratings are going to be higher tonight than last week. That guy just cannot catch a break.
TMZ has
more
, including the name of the man arrested in the plot.
UPDATE: Friday October 2 @ 1:15 PM PST: Yep, Letterman's ratings were
higher
last night, when he laid out the story for the audience.
On Thursday, numbers for "Late Show with David Letterman" surged 22% based on preliminary estimates, according to the Nielsen Company. Letterman spent part of the program discussing a recent $2-million blackmail attempt and admitted that he had had affairs with female staffers on his show.

The program scored a 4.4 rating/12 share in household "overnight" numbers, handily beating "Late Show's" 3.6 rating/9 share so far this season. (Complete numbers, including total-viewer figures, will not be available until later.)
Here's The Today Show's coverage of the story:
And
here
is Washington Post writer, Lisa de Moraes, offering commentary on the situation that seems to suggest she reads my blog, or at least this particular entry:
Yes, let us take a moment of silence for Conan O'Brien, who risked his life last week in order to try to save his show -- suffering a concussion in a race with Teri Hatcher (how embarrassing) and now nobody's gonna watch him for a while..

SILENCE HERE
Maybe I will enter the Washington Post's "America's Next Great Pundit" get-your-own-column
contest
, since they read me over there anyway.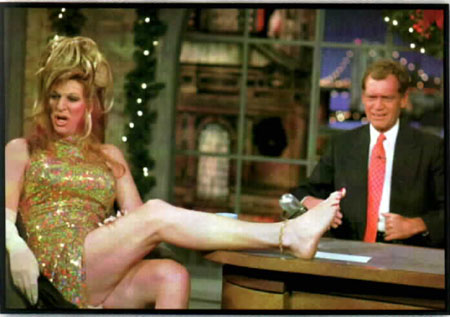 No, that isn't one of the female staffers with whom Letterman had a romantic relationship- it's radio personality Howard Stern in drag. Don't be silly.
David Letterman and Howard Stern pic
source
.