Last year,
Megan Wants a Millionaire
and
I Love Money 3
contestant Ryan Jenkins (allegedly) killed his wife, Jasmine Fiore, and then, after becoming the target of a manhunt that crossed from the US into Canada, he killed himself in a desolate hotel room.
MWAM
was pulled after three episodes, with the remaining episodes yet to air, while
ILM3
never aired any episodes at all. The rumor was that Mr. Jenkins, who seemed charming if a little oily in the first three episodes of
MWAM
, won both shows, or at least made it to the final episodes.
The story was terrible and I have pretty
thoroughly covered it
already.
But the AP recently ran an article in which VH1 makes it clear that those shows will never air, ever. The
article
, by a writer called Derrik J Lang, is ostensibly about VH1's efforts to rebrand itself, to move to less sleazy (Mr. Lang's word) programming, to more mature (Lang's word).
The cable network synonymous with "Flavor of Love" and its sleazy spin-offs is trading trampiness for fabulousness with a new slate of series starring seemingly well-adjusted rich and famous black Americans. VH1 executive vice president Jeff Olde admits that the shift from oh-no-they-didn't fare to more mature material is totally intentional.

"We constantly have to evolve and tell our audience different stories," he says. "I love that we've been able to get more diverse with our audience by -- in large part -- attracting African-American women to the network. We got them in the door with some shows, and now I'm excited about where we're going and how we're telling them different kinds of stories."
This probably isn't a bad idea. VH1 took a serious hit after the Ryan Jenkins incident. I certainly lost the stomach for their 51 Minds-produced shows, especially after 51 Minds's chosen mouthpiece, the contemptible
Stuart Brazell
, repeatedly insulted viewers.
The actions of Ryan Jenkins were despicable, but 51 Minds casting director Stuart Brazell did a great deal to damage VH1's reality show brand.
But just what kind of shows can we expect from the "evolving" VH1?
On her new VH1 reality dating show, Rozonda Thomas -- better known as Chilli from the groundbreaking hip-hop group TLC -- doesn't lounge in bubble baths or hand out fake bling to her suitors. Instead, the 39-year-old singer and mother meets bachelors at black-tie affairs and confers with a dating expert, as well as her 12-year-old son.
Oh, so she doesn't "lounge in bubble baths," (and by the way, what's wrong with lounging in a bubble bath? that can be very refreshing) or hand out "fake bling," but in every other respect this show is exactly the same as other VH1 "of Love" shows.
Except it will be boring.
But what else has this new, less sleazy VH1 got in store for viewers?
With an April 11 debut, "What Chilli Wants" will be partnered on Sundays with "Brandy & Ray J: A Family Business," focusing on sibling R&B singers Ray J and Brandy Norwood as they attempt to relaunch their music careers, and "Basketball Wives," starring Shaquille O'Neal's ex-wife, Shaunie O'Neal, and five other women with romantic links to basketball players.

For the notoriously trashy VH1, it's not reality as usual. While cat fights will flare up with the "Basketball Wives" and Chilli promises a tiff with her sassy matchmaker on "What Chilli Wants," these new shows certainly aren't selling buzzworthy moments akin to "Flavor of Love" contestants spiting on each other or suddenly defecating on the floor.
Let's take a look at these shows.
What Chilli Wants
is the aforementioned dating show. The one that's
Flavor of Love
, only apparently more boring. As for Brandy and Ray J -- why are they attempting to "relaunch" their music careers? Well, Brandy's career has suffered ever since the California Highway Patrol recommended she be charged with
misdemeanor vehicular manslaughter
.
Brandy is being sued for $50 million by the parents of the woman killed in a car crash in December, Access Hollywood has learned.

The lawsuit, filed on Tuesday in Los Angeles County Superior Court, claims "Brandy Norwood was driving recklessly in the freeway when her car collided with Awatif Aboudihaj's car."

Aboudihaj's parents are seeking both punitive and compensatory damages.

On Monday, the California Highway Patrol recommended that the singer-actress be charged with misdemeanor vehicular manslaughter.
She ended up not being charged, because there was "
insufficient evidence.
" But she did settle with the children of the woman who was killed in the crash, even though the parents of the woman, and her husband, didn't.
Over two years after being involved in a fatal car accident that left one woman dead, Brandy has settled with the two children of Awatef Aboudihaj, a 38-year old mother from Los Angeles. Each one will receive $300,000, according to court documents filed in L.A. County Superior Court today.

In December 2006, Brandy's SUV struck another vehicle on L.A.'s 405 Freeway, causing the four-car pileup which left Aboudihaj dead. The Moesha star was not charged with any crime after Los Angeles police ruled there was "insufficient evidence" that she'd committed vehicular manslaughter.

Aboudihaj's husband, Marouane Hdidou, has also filed suit against Brandy. In February, he rejected his part a $1.2 million settlement offer. The victim's parents also have a lawsuit pending.
Now, Brandy has continued to express regret about what happened, and we don't know all the facts. The police say she was going the
speed limit
when the crash occurred. Still-- this is one of the people you're trusting with your new image?
Her brother Ray J was famous for participating in Kim Kardashian's "
sex
" tape, and for appearing on one of those dating shows that the pre-"evolved" VH1 ran,
For the Love of Ray J
:
Monica "Danger" Leon (the chick with the tattoo on her face) alleges that she is more than three months pregnant with Ray's J after letting Ray dip her bat while filming the series last November.

Monica tells The National Enquirer that she became pregnant after a series of unprotected intimate encounters with Ray J.

"I was locked in a mansion with him and 13 girls from October until the end of December. Toward the end of the first week of filming, we made love for the first time – and we slept together every night after that."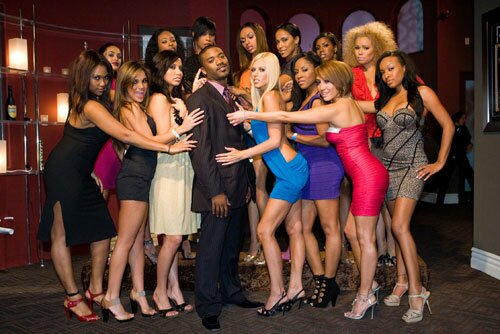 Ray J starred in a pre"evolution," pre"mature" VH1 reality show "For the Love of Ray J." Now he is one of their post evolution shows. VH1 is clearly serious about its new image.
Then there's
Basketball Wives
, with Shaquille O'Neal's ex wife. Isn't that just a rehash of Bravo's "
Real Housewives of
" programs? So part of VH1's "evolution" is to ripoff other networks? (I don't know of anything negative to say about Ms. O'Neal-- apparently Mr. O'Neal cheated on her, and she
left
him, so good for her.)
Basketball Wives
might actually be a decent show, I don't know, but look at how they're selling it in the article: "cat fights will flare up."
Okay, Shaunie O'Neal seems like a classy lady. So maybe "Basketball Wives" won't be all bad.
That sounds like the same old VH1 to me.
Anyway, how are these new VH1 shows, with their new attitudes, doing?
Premieres earlier this year of "Fantasia for Real" and "Let's Talk About Pep" topped that same week's third season debut of "Celebrity Rehab" and episodes of the seedy dating shows "For the Love of Ray J" and "Frank the Entertainer in a Basement Affair," which starred "I Love New York" reject Frank Maresca searching for love from his parent's basement.
Emphasis added because, as I've already pointed out, Ray J is part of one of VH1's newer, more "evolved" shows. But his last show on VH1 was, you know, seedy.
So VH1 is looking to change its image by working with one of the stars of one its past, "seedy" dating shows. Did the author of this article, Mr. Lang, even pay attention to what he was writing?
And by the way, congratulations to Fantasia for topping the third season of the reprehensible
Celebrity Rehab
with the hateful Dr.
Drew
Pinsky
. Dr. Drew's programs are still polluting VH1, so I guess they're not evolving too much. I mean,
Sober House
is currently still on the air.
"The new VH1 shows offer a different take on the black reality TV star," says Imani Perry, a professor at Princeton University's Center for African American Studies. "These are images of wealthy black families. These shows may potentially be less stereotypic because they present a different, higher status black image."
Hm. Ray J and Brandy are certainly wealthy, but so what? Ray J is famous for his sex tape, and for his VH1 dating show. Brandy starred as "Moesha," but then she had that car accident, and what else? Shaunie O'Neal was cheated on by her famous husband, and the other "stars" of her show are notable only for being romantically linked to basketball players. Chilli is appearing on a more boring version of
Flavor of Love
.
I'm not exactly sure how these programs are supposed to be less stereotypic. Might have to actually see the shows before I can make that distinction.
Speaking of watching those shows, back to the infamous Ryan Jenkins. Buried in the middle of the article we find this:
Olde dismisses any past criticisms of "Flavor of Love" and its offspring, mostly produced by 51 Minds Entertainment, by calling the franchise ignited by black rapper Flavor Flav and his multiracial harem "big fun romantic comedies." (Olde confirms that "I Love Money 3," featuring murder suspect and suicide victim Ryan Jenkins, as well as the Jenkins-free "I Love Money 4" won't air.)
ILM3
I understand, since Mr. Jenkins was a contestant, apparently. But he wasn't in
ILM4
. Why are they holding that back?
And, did the winners of those programs (excepting of course Mr. Jenkins) get their money? Typically, reality shows don't pay out the winnings until the final episode has aired. And, are the contestants still bound by their confidentiality agreements? Here you have one of the heads of the network stating unequivocally that those shows are not going to air.
So who won?
Oh, right.. the viewers of VH1's more "evolved," more "mature" programming are the winners.
The sleaziest person on VH1 is Dr. Drew Pinsky.
Shaunie O'Neal pic
source
.
For the Love of Ray J pic
source
.
Dr. Drew Pinsky pic
source
.