Lindsay Lohan was recently on probation for her, I don't know exactly, shenanigans (pick something), and as part of that probation she had to submit to drug testing. Well, she failed one of those drug tests. Or two, I mean. Back on 9/17, TMZ reported that she tested positive for
cocaine use
:
TMZ broke the story that Lindsay tested positive for cocaine last week. Sources connected with the case tell us Lindsay failed another test as well -- we're told it was not for cocaine, but they would not be more specific.
Emphasis added because that means that Ms. Lohan was using on, what, the tenth of September or earlier? I'm not good at math or chronology, but something like that. Early September.
On the 20th of September, TMZ reported that the second failed drug test was for
amphetamines
:
We broke the story ... Lindsay failed two drug tests -- One for cocaine, and now we know the second was for amphetamines.
...
We do not know which test came first -- the cocaine or the amphetamine. But we're told both tests were taken close together. Lindsay failed her cocaine test the week before last.
So clearly, Ms. Lohan likes to use drugs. Please note that I am not judgmental enough to write that she "has a drug problem." She is making choices that I would not make for myself, but I believe that a person's body belongs to them, and they should be able to do with it as they wish.
As long as they accept the consequences. And as Just Jared reported on September 18th, Ms. Lohan seemed to do just that.
Via twitter
, of course.
"Regrettably, I did in fact fail my most recent drug test and if I am asked, I am prepared to appear before judge Fox next week as a result," the 22-year-old actress wrote on her Twitter.
...
Lindsay continued, "This was certainly a setback for me but I am taking responsibility for my actions and I'm prepared to face the consequences. I am so thankful for the support of my fans, loved ones and immediate family, who understand that i am trying hard, but also that I am a work in progress, just as anyone else. I am keeping my faith, and I am hopeful….Thank you all!!!"
Emphasis added because tweeting something makes it come true. I think I read that in one of Hans Christian Andersen's fairy tales.
The Little Match Girl
, maybe.
And yet, in the midst of all this drug-test-failing and responsibility-acceptance comes word that E*Trade settled a frivolous lawsuit that Ms. Lohan filed in which she claimed her reputation was impugned by one of their commercials in which a baby named "Lindsay" is described as a "milkaholic." As TMZ
reported
on Sept 20th:
TMZ has learned Lohan's $100 million lawsuit against E*Trade has been settled.

The terms of the settlement are confidential -- but we're told Lindsay's team is "very happy" with the results ... and sources say Lindsay got some cash out of it.

As we previously reported, Lindsay claimed the stock trading company violated her rights by featuring a baby character named Lindsay who happens to be the "milkaholic" other woman in a baby love triangle.
...
E*Trade reps tell TMZ, "E*TRADE has always maintained that the claims were without merit, which is why we moved to dismiss the case. With the case now withdrawn, we are pleased to have the matter behind us."
As TMZ notes, the basis of the lawsuit was the commercial featured a baby character named "Lindsay" (no last name) who is a "milkaholic" (not a real condition) who is the "other woman in a baby love triangle" (impossible).
In other words, the commercial, featuring talking babies for crying out loud, is complete fantasy. Yet Ms. Lohan sued, because the baby was named "Lindsay." That's the same first name as Ms. Lohan!
And when the commercial first aired, as Advertising Age reported back on March 9, Ms. Lohan seemed to think the commercial was
funny, and joked about it
:
Indeed, a lot of people were talking about it on Twitter in the aftermath of the spot's airing -- with many egging Ms. Lohan on to file a lawsuit against E-Trade. Wrote someone named Ryan Curtis: "@lindsaylohan I would sue if I was you," and later saying "@lindsaylohan I really think you should look into it. It wasn't funny and rude."

She replied back to several of the comments, but seemed to take it in stride, if not be amused by it. Wrote Ms. Lohan to @bigbillybmoney "hahahaha vitamin D never tasted so good!" Another person named Alex Rodil joked with Lohan: "U darn milkoholic! HeHe" and attached this photo to the tweet.

To others, she suggested that the E-Trade ad might even spur on a second round of her "Got Milk" campaign from back in the day. Wrote Ms. Lohan: "@MissCarlaJeann :) @Eleven_11 i did a Got Milk campaign quite a bit ago- maybe it's time for round 2?!??!"
But why take something in stride when you can take it with a little scratch instead? And please remember that this is a commercial about a
talking baby
called "Lindsay." Who is a "milkaholic." It was not a commercial featuring actual images of Ms. Lohan with a slogan like "Invest Before You End Up Like
This
."
And consider what the gossip blogs write about her. Perez Hilton, dlisted, etc. Those people are writing a lot more than just "milkaholic baby" stories.
Ah, but E*Trade has money. Some of which went to pay for their lawyers, for Ms. Lohan's lawyers, and to Ms. Lohan herself. Which means it did not go to hire new employees, or pay existing ones. Which means it went from productive people to unproductive ones involved in either filing or fighting a frivolous lawsuit.
Anyway, as InTouch noted on September 9, Ms. Lohan actually
wants a baby
of her own:
Despite her recent legal issues — and recent reports that while driving she allegedly clipped a stroller with a toddler in it — Lindsay Lohan wants to be a mom! The star has confided to a pal that she's determined to stay sober and thinks the best way for her to achieve that goal is to get pregnant. According to the pal, Lindsay, 24, hates being alone and thinks a baby would make the perfect companion.
Perhaps as part of the settlement, E-Trade gave Lindsay one of those babies from the commercials?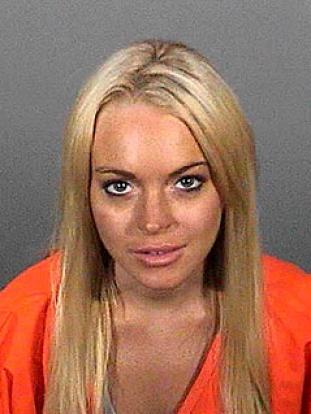 She needs a baby. A little Lindsay Jr.
Lindsay Lohan mug shot pic
source
.