New post over at
When Falls the Coliseum
, about the city of Los Angeles's requirement that pornographic film performers wear condoms when they make films. A bit:
Kudos to the city council and mayor of Los Angeles, California for exhibiting rare leadership by
mandating
that pornographic film actors wear condoms when they make their films within the LA city limits.
With just a few strokes of his pen, the mayor has saved literally dozens of lives, probably. Actually, it's probably millions of lives, because now not only will the performers in pornographic films be completely protected from uncovered penises, but the people who watch pornographic films will be reminded of how great condoms are, and they will emulate their pornographic film performer heroes and put them on when they engage in their own coitus.
That is what you call a "win-win."
I'm not going to pretend to know anything about pornographic films, myself. If I tried to talk to you about pornography, I'd come off like Mitt Romney talking about shooting "
small varmints, if you will
." But I would like to think that seeing James Deen wrap up his p*cker before sticking it into the buttocks of, oh let's say Naomi Russell, would be a welcome development for the pornographic film connoisseur, of which I am not one. Seriously, if you presented me with a lineup of Tori Black, Stoya, Carmen Kinsley, Eve Lawrence, and Jennifer White and told me to tell you which of them was whom, I would probably not be able to tell you, especially if they weren't wearing any makeup. I understand they all look different without makeup.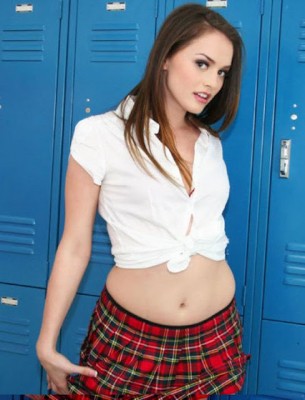 I don't know who this is.
It's just not my world, you see. As far as I know, the letters "ATM" stand for "Automated Teller Machine," and nothing else. The only "Bang Brothers" I know are Archie and Chester Bang, of the Hampton Bangs. I met them while summering in the Hamptons in my long-ago youth. Oh, the times we had! That special summer I learned the true value of the word "teamwork," when I and Chester and Archie and Bobo and Fritzy and the Jimster all worked together to win the big regatta against an upstart team led by the son of the groundskeeper. I digress.
You can read the rest here
.